Archery is held at two locations at Cheshire County Shooting Sports Education Foundation our outdoor range is located at 268 Ferry Brook Rd in Sullivan NH, approximately a half mile past the rifle range and on the opposite side of the road. Indoors we host shoots, have open practice, and run a youth program from December to April at the Keene Parks and Recreation Center, 312 Washington Street, Keene, NH.
OUTDOOR RANGES
We have two outdoor archery ranges at the foundation. Thirty McKenzie 3-D targets are put out on our course in early summer on a well-marked trail and the ranges vary from novice to challenging. The 3D trail will take you around the hill above the parking area and wraps back around onto itself back to the parking lot. A part of our field archery course is seen as you enter the archery driveway the well-marked trail will take you through the 14 target range and the last target drops you back out on Ferry Brook rd. These well defined trails have marked distances from 20 feet to 80 yards. Below are sketched maps of our two ranges.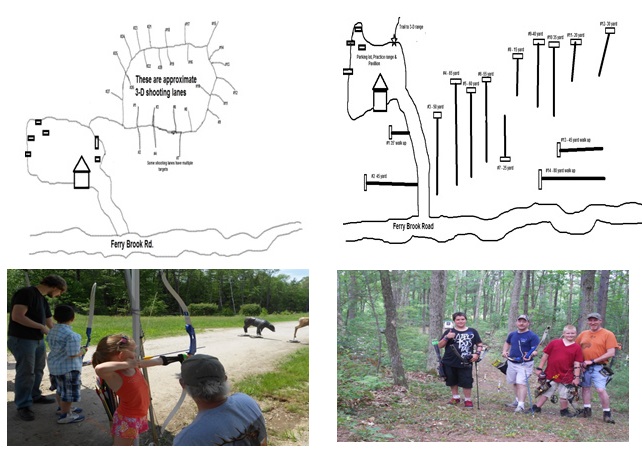 We hold several outdoor competitive field archery shoots each year. We have open practice on Tuesday evenings and all are welcome. Not a member? We allow non-members to shoot the course for $5 anytime we are at the range for a scheduled shoot or practice.
INDOOR RANGE
Here is our schedule for our indoor archery season. Just a couple of notes there will not be a flyer mailed out this year information will be sent via email reminders and on the New Hampshire bowmen facebook page. Awards will be distributed at the next shoot event due to the high cost of trophies except for the last leg of the Grand Slam awards will be on hand and presented after the last line on Sunday.
As of right now while at the Keene Rec Center if you are not on the shooting line face coverings will likely be required.
Shooting line times will be 9am start time and 1pm start time except for the 25 meter shoot will be 9am and noon. Please confirm times via reminders when reserving shooting line.
We will be having open shooting practice at the Rec Center starting early December Sunday afternoons 12-4 and Tuesday evenings after 530pm Please get in touch with me if you plan on coming over to ensure we are there. $5 Dan Deyo 603-209-6721
Pioneer Sportsmen league open to all this is not a learn to shoot night you must have your own equipment in good condition Thursday evenings $3 contact Peter Jukoski for more information at:
pjukoski@hotmail.com
January 2nd Keene Vegas round 9am and 1pmlines
January 9th Pioneer Vegas round 9am and 1pmlines
January 15/16th Grand Slam Vegas round first leg Pioneer
January 23rd Pioneer Vegas 9am and 1pm lines
January 29/30 Lancaster PA
February 3-6 Vegas shoot Las Vegas
February 12-14 NH indoor FITA state championship Pioneer Sportsmen
February 19/20th NH Bowmen state Championship Grand Slam second leg current NFAA/USA archery membership required for championship awards Guests Welcome
March 6th 25 meter shoot Keene one line 9amonly
March 12/13 Indoor New England Sectionals
March 19/20 NFAA indoor Nationals Kentucky
March 26/27th Grand Slam third leg Keene 25 Meter 9am 1pm lines
Please share with anyone with any interest lets come back strong for New Hampshire Bowmen.
Dan Deyo
President