2018 Membership Renewal
In order to cover the expense of numerous range safety improvements made this past year, membership fees will increase for the first time in five years. However, if renewals are received before 12/31/17, the fee will remain at the 2017 rate for 2018.
Click HERE for Membership Renewal Notice&feeSchedule 2018.
Click HERE for Membership Renewal Application.
We Are Looking For A New General Manager
The GM Position will be open at the end of the year and we are looking to find a new General Manager. This is a part time gig (15 hours per week) and pays $10 per hour.
Some starting requirements are:
Basic familiarity of CCSSEF/CCF&G Club.
Basic computer & email skills.
Microsoft EXCEL and WORD computer programs.
Knowledge of (or be able to learn) Quickbooks Accounting Program.
For more details, contact Larry Parker 352-8563 or Mike Hagan 313-2542 or Chris Wheeler 903-2235 or Bill Arnott 313-6884
Fall 2017 Gunsmoke Quarterly



Covered 100 Yard .22 Rifle Range Is Officially Open To Members For General Shooting.

CCSSEF/CCF&G 2017 RIFLE RANGE UPGRADE
Click HERE for 2017 rifle range rule changes.

Becky Bob's Grill will be serving lunch on Saturdays
from 11:00 to 1:00.
Belgian Waffles will be served from 8-10am. Waffle and a cup of coffee $4.00.
.22 Rifle Shoot
Sunday, February 11th, 9:00a.m. PB#1
Cost: $10.00, Registration begins at 8:30a.m.
Format: start with 8 rounds of 22LR, shoot at 8 metal knock down targets in 15 sec, 4 station rotation, 25 yds for rifles and 12 yds for pistols.
Next pistol shoot is February 25th.
Watch for the Keene Parks & Rec Indoor Archery dates starting in early December
Tuesday Evenings And Sunday Afternoons.
Check the schedule for dates and times.
Click HERE for our archery page.
For more information contact Dan Deyo at 603-209-6721

Concealed Carry Handbags now on sale at the clubhouse!
Click HERE for more information and photos.
Remember our Range Rules!
Please remember that according to the CCF&G Range Rules, eye and ear protection are required on all ranges for both shooters and spectators. Safety glasses and disposable ear protection are available for purchase in the vending machine located in the clubhouse.
The main gate may be left open while you are using the CCF&G Club facilities. Make certain that, if you are the first person to open the gate, you secure the gate in the full open position by attaching the rope on each side of the gate to their respective retaining poles. If you are the last person to leave the CCF&G facilities, make sure that you lock the gate behind you.
Clubhouse Door and Gate

Current members have the combination that will unlock the clubhouse, as well as the gate. Instructions are on the bulletin board by the front door.
National Shooting Sports Foundation
Please check out the National Shooting Sports Foundation Firearms Safety Initiative
by clicking on their logo below. The Club is an affiliate of the NSSF and we support this program.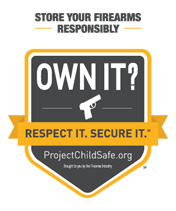 Join the NRA
Click on the Eagle below and receive a significant
DISCOUNT on new and renewal NRA memberships.