Home »
Tickets Now Available for the FIRST 30-30 Raffle in 2021
Everybody knows the rules…
One gun a day will be raffled off throughout the month of June
Only 1000 Tickets will be Sold at $30 each
Winning tickets are Returned to the bin for the Next Day's Drawing
Each daily pull costs you a buck!
Yes, theoretically, ONE PERSON could win all of the guns!!
A Sample of the Guns – All Pistols This Time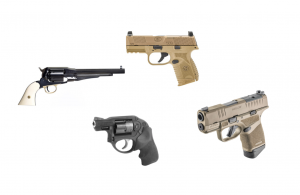 Tickets are now available at the range. Soon all members of the Board of Directors will have tickets to sell. Soon, your favorite seller will have tickets to sell.
On a budget? (Aren't we all?) There is plenty of time to buy a couple of tickets a month and boost your chances!
Why did I say "FIRST"? Because there will another 30-30 raffle in the fall. That one will be all long guns
Here Are The Guns For This Raffle
1. SIG SAUER 320XS-9-LEGION-R2 9mm S" bbl 17rd
2. RUGER LC9s 9mm 3.12″ bbl 7rd
3. S&W M&P9 PFMC 4. 2S"bbl 17rd
4. SIG SAUER 36SXL-9-BXR3 9mm 3.7″ bbl 12rd
5. FN 509C COMPACT 9mm 3r. bbl 12rd
6. S&W M&P9 SHIELD 9mm 3.6″ bbl 8rd
7. TAURUS G2CB 9mm 3. 2″ bbl 12rd BLK
8. S&W M460 8.5″ 460 S&W M AG. STAINLESS
9. GLOCK Gl7 GS 9mm MOS 4.49″ bbl
10. GLOCK Gl9 9mm FS 4″bbl lSrd
11. GLOCK Gl9 GS 9mm MOS 4″bbl
12. S&W M&P9 SHIELD 3.6″bbl 8rd
13. GLOCK G26 GS 9mm 3 . 4″ bbl
14. GLOCK G43X 9mm MOS 3.4″ bbl lOrd
15. TAYLORS 107G THE SODBUSTER UBR BP .44 8″
16 . BERETTA 3032 TOMCAT 32ACP 2.4 " bbl 7rd
17. SPRINGFIELD HELLCAT FOE 9mm 3″bbl llrd
18. SIG SAUER 365-9 -BXR3 9mm 3.l " bbl lOrd NS
19. BOND ARMS ROUGHNECK 9mm 2.S" bbl
20. ROCK ISLAND ARMS ROCK ULTRA HC 10mm S" bb l
21. RUGER LCR 38SP +P l .87″ bbl
22. S&W M638 38SP +P l .8″ bbl STAINLESS
23. RUGER 57 S.7X28 4.9″ bb l FIBER OPTIC
24. KELTEC PMR30 .22M AG 4.4″ bbl 30rd
25. FN 509C T 9mm 4.3″ bbl
26. RUGER LCPII .380 2.7S"bbl
27. SPRINGFIELD XD-S OSP 9mm 3.3″bbl 7&9rd
28. BUL ARMORY CHEROKEE COMPACT 9mm 3.6″ bbl
29. RUGER WRANGLER 22LR 4.6″ bbl STAINLESS
30. TAURUS JUDGE 4SC/410 3n STAINLESS