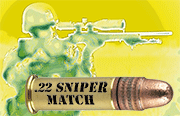 Tactical-Style Rimfire Fun
.22 Sniper Matches demand a lot from a shooter and from his/her equipment. Still, these events are designed more for fun than for competition.
You'll need to hit targets at 25, 50, 100, 150 and 200 yards. If you haven't tried shooting long range with a .22 before, it's like shooting a .308 Winchester at 1000 yards. The tiny round eerily imitates the trajectory of a .30 caliber bullet at long range, and even a slight wind can make 2 MOA shooting very difficult at 100 yards and beyond.
Targets and strings of fire for Sniper Matches vary greatly. You can expect most of the shooting to be from the prone position off a bipod (or sand bag), but offhand or kneeling/sitting shots may well be required. Close targets tend to require precise shot placement on paper targets. Longer range targets are generally made of steel and typically allow shooters to make multiple attempts on a 'hit,' although you lose out on points every time you miss.
The fee for this event is $10 for adults, and those under the age of 18 shoot for free. Watch for announcement of the specific times for the matches on the Foundation's website.
2016 SHOOT DATES
May 15 (a.m.)
June 12 (p.m.)
July 17 (a.m.)
August 21 (p.m.)
Sept. 11 (p.m.)
See master calendar for specific times.
Primary Contact
Mark Timney
603-321-2213